I remember the first time I went to Anfield. It was a pre-season friendly against Lazio, back in 2002.
One of the things that left an impression on me was this sign, all over the stadium:
"Are you telling me that Liverpool fans don't swear?" I said out loud.
"We frown on that type of behaviour" said a nearby steward who overheard me, "Except of course, it's directed at Alex Ferguson !".
I have to say, I never felt prouder to be a Liverpool fan. When I told my uncle, who at the time was a season ticket holder at Everton, he said it was impossible. "There is no way people don't swear at a football ground" he insisted.
The next time I went was a Carling Cup match against Ipswich. Liverpool won on penalties. I was on a high after the game, and while walking back home, ran into some Ipswich fans. I started singing "Liverpool, Liverpool, Liverpool....." at them, somewhat aggressively, rubbing our victory in their faces. I was told off immediately, and told in no uncertain terms that my behaviour was not acceptable. BY LIVERPOOL FANS. I apologised immediately, and went on my way.
Anfield is a special place to watch football. When the crowd sings "You'll Never Walk Alone", you can literally feel the hairs on the back of your neck stand up. The Words of that anthem are powerful, and make you feel like you're part of something, not just a fan of a football club, but a member of a movement. Liverpool's proud history, prestige and the atmosphere at that special ground, that is why I am a fan of the second most successful club in England.
THIS MORNING
This mornings headlines broke my heart.
Liverpool investigate (racial) abuse aimed at Oldham's Tom Adeyemi
How did it all come to this? That fans of Liverpool got a player so upset, that he was in tears?
SUAREZ, OH, SUAREZ
It all started on the 15th of October, 2011. Liverpool vs. Manchester United, the biggest game at Anfield every season. Patrice Evra alleged that
Luis Suarez racially abused him
. In support of their team-mate, Liverpool players wore t-shirts with his image on them at their next match.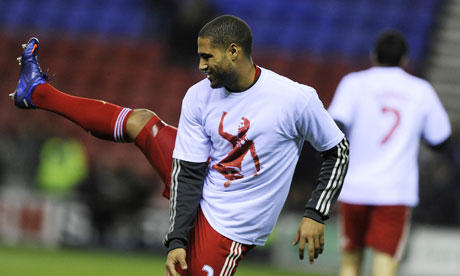 The FA took their time, investigated, and found Luis Suarez guilty. And it was a truly heavy punishment. A £40,000 fine,and an 8 game ban.
Liverpool hit back. Hard. They were not happy with the decision, and were hit with a
115 page report
explaining what had gone into the decision to hand down such a heavy punishment. They released some very defiant statements, with no apology in sight. After the report though, they decided against an appeal.
MY OPINION
My opinion is insignificant, and uninmportant. It doesn't really matter. But humour me, and hear me out.
First of all, I do not believe Luis Suarez is a racist. He's an accomplished troublemaker, and a mischievous person. But a racist? No.
There's a cultural aspect to the insult he gave Evra. Every Uruguyuan has come out in support of their countryman, because in their country, the insult would not be considered racist. Among Suarez's team-mates these days is Maxi Pereira, who is known as "El Mono" - the monkey. It is a nickname which, apparently, is given and accepted with no offence meant or taken. It appears to be used in the same spirit that Alvaro Fernandez is called "El Flaco", which means skinny. Read this
excellent piece
by Tim Vickery, a British man living in Brazil.
So he's not a racist in my opinion (his grandfather is black by the way), but what he did was wrong. VERY WRONG. He should not have done it.
I have my issues with how the FA handled it, but to be fair to them it was a very delicate matter, and there's no way they could have everyone happy. But that is irrelevant.
Liverpool's reaction to this whole thing has been misguided. The t-shirts in my humble opinion were a massive blunder. Support your player, yes, but do it behind closed doors.
If I was the person calling the shoots, I would have asked Suarez to apologise. Even before the judgment came through. Explain that he didn't think he was being racist, but he apologises to Evra, and to all Liverpool and Manchester United fans, ureservedly. And when the punishment was handed down, accepted it, and promised that it would never happen again. And end it there.
This week of all weeks, when 2 of t the killers of the racist Stephen Lawrence were finally
brought to justice,
it's sad to hear that football fans are racially abusing a player. Racism is a very ugly thing. We need to stamp it out in all forms.
Liverpool Football Club should have set a better example. What happened last night was not their fault, no. But they have lost the moral high ground. They should have handled the Suarez situation better.
And I just hope that somewhere in the board room, someone has realised this, and that lessons have been learned.